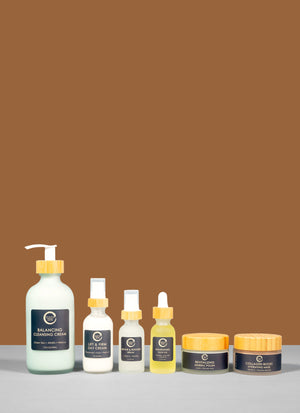 Our mission is to provide clean, plant derived skin care routine for all skin types.
Shop Our Products
Made for purity, effectiveness, and skin wellness
Since I've started to use Sunya Skin, I have seen a tremendous difference in my skin texture and clarity. I see less acne and everything feels tighter and lifted. The "Revitalizing Mineral Polish" and "Repair and Restore Serum" are a game changer.


Heather S.
I have sensitive skin and as a 44 year old man, I don't have many options. I've used various products over the years with varying results. My favorite daily product is the "Balancing Cream Cleanser" because it cleans and balances my skin without irritation or an oily after feel.

Todd L.
Sunya Skin Care products have been a life saver for me. I have no time to spend on my skin due to busy schedule. Not only is it affordable but all the products are user friendly. My skin feels younger and wrinkle free. I definitely recommend this skin care company.

Ella S.
Our Commitment to Sustainability
At Sunya Skin, we are committed to providing sustainable and eco-friendly products. We take pride in ensuring that both our formulations and packaging align with this promise. Our products are designed to biodegrade and not leave a lasting impact on the environment. Additionally, we use environmentally friendly materials such as sustainable glass, bamboo, and recycled paper for our packaging. All of our natural products are formulated at a botanical skin care lab located in the USA.
FREQUENTLY ASKED QUESTION
Discover the answers to your frequently asked questions about our skin care products in our convenient FAQ section. Don't hesitate to check it out and get the information you need!
LEARN MORE